The simplified student visa framework (SSVF) came into effect on 1st July 2016.
Key changes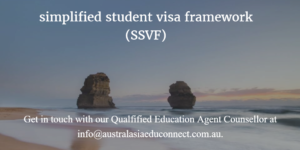 The SSVF has been designed to make the process of applying for a student visa simpler to navigate for genuine students, deliver a more targeted approach to immigration integrity and reduce red tape for business.
From 1 July 2016:
a) international students will apply for a single  Student visa (subclass 500) regardless of their chosen course of study;
b) student guardians will apply for the new Student Guardian visa (subclass 590);
c) a single immigration risk framework will apply to all international students;
d) all students and student guardians will generally be required to lodge their visa application online
Combined country and provider immigration risk model
The combined immigration risk outcomes of the student's education provider and country of citizenship are used to guide the level of financial and English language capacity related documentation that the student needs to provide with their student visa application.
Online document checklist tool for students
The online document checklist tool advises students about the documentation they need to provide with their visa application based on their combined country provider immigration risk outcomes.
Financial capacity requirement
Student visa applicants must have sufficient funds available for the duration of their stay in Australia.
English language requirement
Applicants must meet the  English language requirement  to be granted a student visa.
It does not mean that students are eligible to enrol in a particular course. Education providers have separate responsibilities under the Education Services for Overseas Students Act (ESOS) to ensure that students have sufficient levels of English for their intended course of study.
Other requirements
Applicants must also meet all other core visa criteria. These include:
Genuine temporary entrant requirement
Health requirements
Character requirements.
Evidence of enrolment
Students who are outside Australia must be enrolled in a registered course of study and provide a Confirmation of Enrolment (CoE) when they lodge their student visa application.
Students in Australia can apply with a letter of offer or a CoE but must have a CoE to be granted the visa.
Evidence of enrolment for other students are:
secondary exchange students – an Acceptance Advice of Secondary Exchange Students form
postgraduate research students required to remain in Australia for marking of their thesis – letter from their education provider
Department of Foreign Affairs and Trade (DFAT) and Department of Defence sponsored students – letter of Support from DFAT or Defence.
Changing course
On 1 July 2016, a new condition was introduced requiring all Student visa (subclass 500) holders to maintain enrolment at the same level or a higher Australian Qualification Framework (AQF) level for which they were granted a visa, unless they are undertaking a:
a) doctoral degree (AQF10) and
b) transfer to a master's degree (AQF9).
Transferring to a lower AQF level course or transferring from an AQF level course to a non-AQF Award course is a breach of the student visa condition and might result in the visa being cancelled.
Students who want to change to a lower level course or non-award course must apply for, and be granted, a new student visa before they change their course.
School sector requirements
From 1 July 2016, all school students must be of an appropriate age for the entry level for their school course, regardless of their country of citizenship.
Generally the maximum grant period for a student visa grant is five years, with the exception of primary school-aged students where a maximum period of two years will generally be applied.
Welfare for under 18 year old students
Students under the age of 18 years of age must have adequate welfare arrangements in place while in Australia.
Course packaging
Students can package two or more courses on one student visa where there is progression from one course to another.
Education providers do not need to formally nominate educational business partners and can package with other education providers with whom they have a commercial arrangement.
Family members of students
From 1 July 2016, family members of existing student visa holders need to apply for a Student visa (subclass 500) if they do not currently hold a student visa and wish to join the student in Australia.
There are no restrictions on the duration of particular courses that the student must study to be accompanied by family members, including dependants who later join the student in Australia.
For more information regarding your student visa and choosing a study course/program in Australia, please get in touch with our Australian Qualified Education Agent Counsellors (QEACs) (PIER QEAC No. L615) as well as an Education New Zealand (ENZ) Trained Agent at info@australasiaeduconnect.com.au.
Source: The Simplified Student Visa Framework explained; Simplified student visa framework.