The Department of Employment, Skills, Small and Family Business their Traffic Light Bulletin for a proposed change in the Short-term Skilled Occupation List (STSOL), the Medium and Long-term Strategic Skills List (MLTSSL) and the Regional Occupation List (ROL).

Red Occupations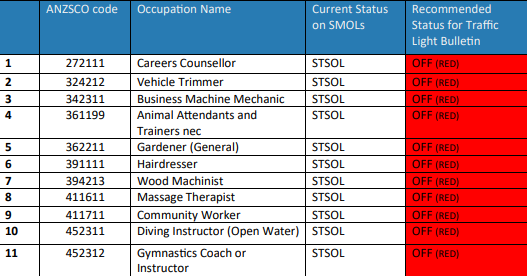 These occupations have flagged for removal from occupation lists. Earlier popular occupations such as Hairdresser, Community Worker, Business Mechanic, Career Counsellor etc. have flagged .
Orange Occupations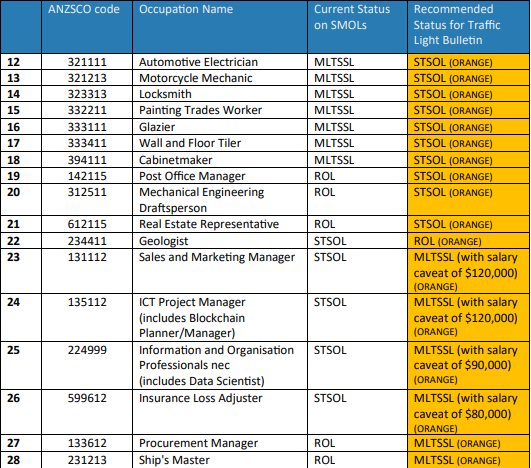 Orange occupations may move between the following three occupation lists:
Short-Term Skilled Occupation List (STSOL)
Medium and Long-term Strategic Skills List (MLTSSL)
Regional Occupation List (ROL)
Occupations currently flagged to be downgraded from MLTSSL to the STSOL include Automotive Electricians and Motorcycle Mechanics, Painting Trades Workers, and Wall and Floor Tilers etc.
Occupation may move from the ROL to the STSOL – opening up the option for employers in non-regional Australia to sponsor for visas – are occupations including Mechanical Engineering Draftsperson and Real Estate Representative.
Potential occupations moving from the STSOL to the MLTSSL are Sales and Marketing Manager, ICT Project Manager, and Information and Organisation Professionals which includes the occupation 'Data Scientist'.
This move would give pathways to permanent residency for 482 visa applicants as well as the chance to apply for a Skilled Independent 189 visa.
It is important to note that these occupations also come with a recommendation for salary caveats above a certain level.
Moving from the STSOL to the ROL could be Geologist, which would limit applicants to living and working in regional Australia.
Finally, making a big jump from the ROL to the MLTSSL could be the occupations of Procurement Manager and Ship's Master, again giving employers the chance to sponsor employees outside of regional Australia.
Green Occupations

A number of personal support occupations have been flagged for addition to the STSOL after languishing off all lists for quite some time. Those that could be added are Aged or Disabled Carer, Nursing Support Worker, and Personal Care Assistant. All three occupations come with the recommendation that there is a mandatory skill assessment.
For more information regarding the changes of occupation update, please get in touch with our migration team at info@australasiaeduconnect.com.au
Source: Skilled Migration Lists Review: Traffic Light Bulletin Consultation (December 2019 – February 2020)