To be eligible, international PhD graduates will need to have completed a PhD at a Victorian University in an occupation on the Department of Immigration and Border Protection's Consolidated Sponsored Occupation List (CSOL) in the past five years.
List of University in Victoria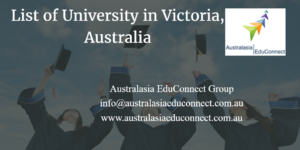 Ballarat
Federation University of Australia
Melbourne
Deakin University
La Trobe University
RMIT University
Monash University
Swinburne University of Technology
University of Divinity
University of Melbourne
Victoria University
If you are interested in choosing a degree in PhD and pursue your study at an University based in Victoria and take your opportunity to live and work in Australia and to get a fast-tracked pathway, please contact our Australia's Qualified Education Agent Counsellors (QEAC No: L615) & Education New Zealand (ENZ) Trained Agent at info@australasiaeduconnect.com.au.
Follow us at Facebook.
Become a Follower on Linkedin Company Page.
Invite us to become a member of LinkedIn Group.